Doctoral program in Advanced Engineering Systems for Industry (AESI)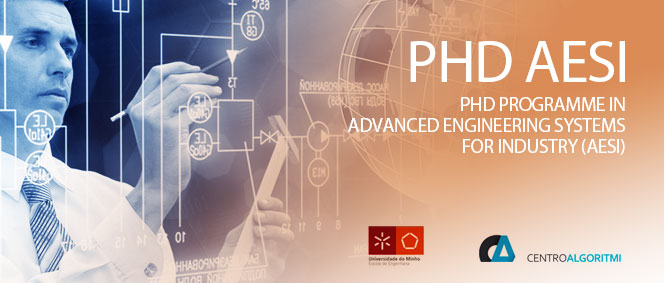 Applications for the Academic Year 2022/2023
Application period: 30 August to 03 Sept. 2022
The doctoral program in Advanced Engineering Systems for Industry (AESI) is promoted by the University of Minho/Centro ALGORITMI and it is specially targeted for preparing PhDs students for an advanced engineering career in industry.

The AESI doctoral program is devoted to train PhD students to work in industry with the role of leading innovation and technological development in advanced engineering systems, namely in:
·      manufacturing systems and logistics;
·      information and software systems;
·      information visualization and CAD systems;
·      embedded systems and industrial informatics;
·      modelling, simulation, and optimization.

The specialization in these engineering topics empowers the AESI students to promote the adoption of worldwide-recognized business excellence and quality reference models in industrial organizations. Thus, AESI students will also be skilled to explicitly manage industrial property, private innovation strategy, and organizational projects and change management.

Industry cooperation and affinity with real industry needs is a dominant concern in this doctoral program, and all activities aim to reach application in industrially relevant contexts. Currently, DTx CoLab and its associated industrial members are the main industrial partners of this doctoral program.
See more detailed information about the Doctoral Program on Advanced Engineering Systems for IndustryIn Portuguese / Englishand for application: Portuguese / English